Muhlenberg Summer Music Theatre Asks Audiences to 'Be Our Guest'
'Beauty and the Beast' breathes new life into the fairytale classic, opening June 14.
By: Sarah Jae Leiber '19 Wednesday, June 6, 2018 09:21 AM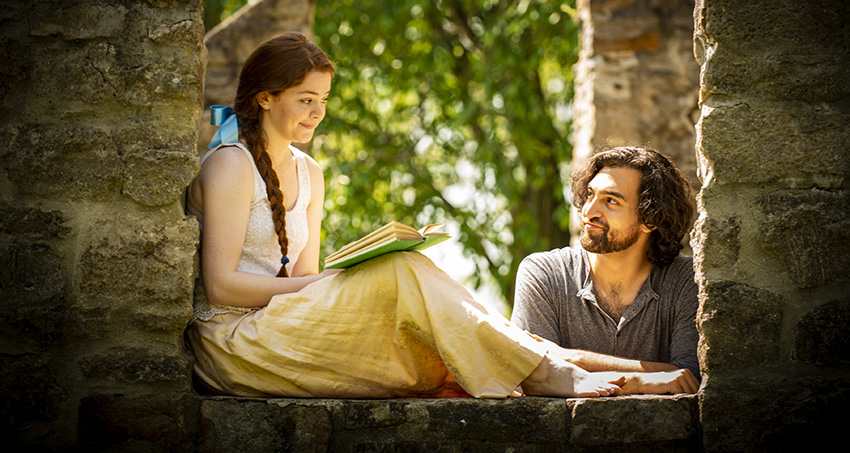 Belle (Ashley Hiester '19) and the Beast (Alan Mendez '17), photo by Ken Ek.
Muhlenberg Summer Music Theatre invites patrons to experience a "tale as old as time" as it presents the modern Disney classic "Beauty and the Beast," June 14 – July 1. The production features lavish scenic design, spectacular effects, and "a touch of Disney magic," says director Gary John La Rosa. The show also features Alan Menken's beloved musical score — and a timeless tale of love and redemption.
"It's a story about finding love and finding home," La Rosa says. "It's about two people who feel like outcasts finding each other, finding a way to communicate, and learning to love each other."
La Rosa's directing credits include Broadway, Off-Broadway, and prominent regional productions; he makes his Summer Music Theatre debut with this beloved family musical.
"We have gone to great lengths to make the show as beautiful, magical, and exciting as it can be," he says. "We've incorporated a professional illusionist and pushed the limits from our scenic and lighting departments, and I think audiences will be surprised at what they see onstage and how truly beautiful and magical it is."
"Beauty and the Beast" broke barriers in 1991, becoming the first animated feature nominated for the Academy Award for Best Picture. Disney brought it to Broadway in 1994, where it ran for more than 5000 performances over 13 years. Since then, the stage version has traveled the world, playing in more than 30 countries, to audiences of more than 50 million.
The show tells the familiar story of Belle, a beautiful, bookish young woman from a small, provincial village, and the Beast, a vain young prince trapped under a spell. Can they break the curse in time, or are the Beast and his enchanted household forever doomed?
La Rosa says he expects audiences will enjoy learning the answer.
"I want audiences to be thoroughly entertained by the magical effects, by the great song and dance," he says. "But I mostly want them to be surprised that it feels like it's the first time they're seeing the piece."
Ashley Hiester, a Muhlenberg sophomore who plays Belle, says the themes of "Beauty and the Beast" will benefit all kinds of audiences.
"It seems cliched, but the message of this show — about judging a book by its cover, about learning to love in spite of difference — are really important," she says. "Our world could use some of this show's wisdom and magic right about now."
The "Beauty and the Beast" production team includes choreographer Ann Cooley; musical director Ed Bara; lighting designer Gertjan Houben; scenic designer Edward T. Morris; and costume coordinator Barbara Erin Delo. The team also includes a magic consultant, professional illusionist David Caserta, as well as makeup artist Joe Dulude II, designer of the makeup effects in Broadway's "Wicked" and "SpongeBob SquarePants," among many others.
These world-class artists are collaborating on what artistic director Charles Richter calls MSMT's "largest, most technically challenging production ever."
"'Beauty and the Beast' has about a million moving parts," says Cooley. "The process of creatively and technically putting the pieces of this puzzle together is what I love about theatre-making."
Some of the show's most challenging puzzles demanded the talents of acclaimed illusionist David Caserta — a veteran of more than 10,000 live performances, including an appearance on the TV show "Penn & Teller: Fool Us." A 1997 Muhlenberg graduate, Caserta took time out from his touring schedule to work on the production.
"The quality of the illusions we're producing is right up there with the Broadway production," he says. "The special effects in the show won't just be stage trickery. We're making it magical."
Muhlenberg alumnus Alan Mendez '17, who plays The Beast, says the special effects aren't the production's only magic.
"The magic is everywhere," Mendez says. "I'm really excited for people to see it. Working with Gary John has been wonderful. The set is going to be gorgeous. Ed is an extremely talented music director, and the orchestra is gonna be fantastic. The lighting and sound elements, everything."
"What we're offering is truly on a Broadway scale," La Rosa says. "Audiences will get more entertainment value than they could possibly imagine in two-and-a-half hours. There's spectacle, there's mystery, there's stage magic, there's wonderful story, music, dance — it's all in one show, and it's happening right around the corner."
"Beauty and the Beast" plays June 14 – July 1. Performances are Thursday and Friday at 7 p.m., Saturday at 2 and 8 p.m., and Sunday at 2 p.m.
Tickets for the first four shows are $35 regular admission. Senior tickets are $31, student tickets (ages 19-22) are $20, and youth tickets (18 and under) are $17. For the rest of the run, regular tickets are $41, senior tickets are $37, student tickets are $24, and youth tickets are $21. Groups of 15+ are $25 per person, $16 for students and youth.
Tickets can be purchased online or by phone at 484-664-3333. Performances are in the Empie Theatre in Baker Center for the Arts, Muhlenberg College, 2400 Chew St., Allentown.
Now in its 38th season, Muhlenberg Summer Music Theatre was founded in 1980 by Charles Richter, Curtis Dretsch and Jeremy Slavin, with the mission of offering Broadway-quality professional theater productions for the greater Lehigh Valley community, at affordable ticket prices. The annual festival will present its 83rd mainstage production this summer on the campus of Muhlenberg College.
Founded in 1848, Muhlenberg College is a highly selective, private, four-year residential college located in Allentown, PA., approximately 90 miles west of New York City. With an undergraduate enrollment of approximately 2,200 students, Muhlenberg College is dedicated to shaping creative, compassionate, collaborative leaders through rigorous academic programs in the arts, sciences, business, education and public health. A member of the Centennial Conference, Muhlenberg competes in 22 varsity sports. Muhlenberg is affiliated with the Evangelical Lutheran Church in America.
Muhlenberg offers bachelor of arts degrees in theater and dance. The Princeton Review ranked Muhlenberg's theater program in the top twelve in the nation for eight years in a row, and Fiske Guide to Colleges lists both the theater and dance programs among the top small college programs in the United States. Muhlenberg is one of only eight colleges to be listed in Fiske for both theater and dance.