Muhlenberg College's Institute of Public Opinion Has Been Making National News
CNN cites the College's "gold standard" polling institute.
By: Paul Flanigan '18 Tuesday, May 15, 2018 00:09 PM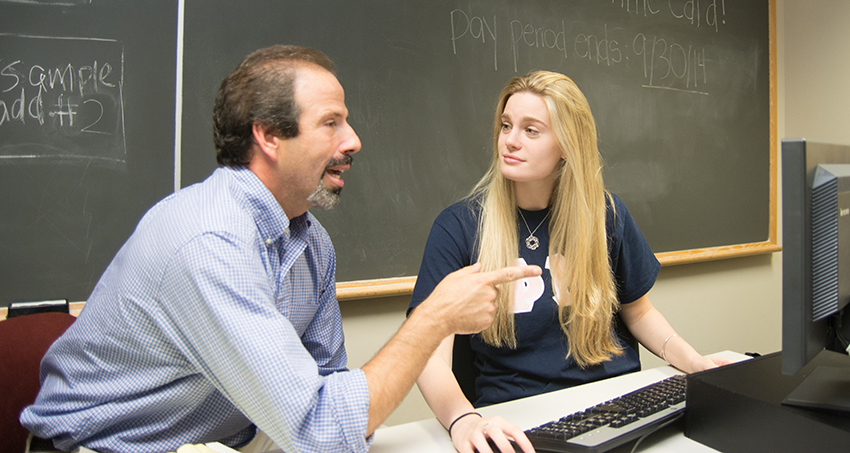 Muhlenberg College's Institute of Public Opinion director and professor of political science Chris Borick works with a student.
Dozens of Muhlenberg students are the engine behind the surveys the College's Institute of Public Opinion (MCIPO) conducts. MCIPO director Chris Borick is a professor of political science and a nationally recognized public opinion researcher who has conducted more than 300 large-scale public opinion surveys over the past two decades.
The April and May Pennsylvania 2018 Midterm Election Surveys Borick and the student team released have drawn a great deal of national media attention. Experts consider the state's midterm congressional elections polling numbers to be a bellwether for the results of the nation.
A new CNN article calls MCIPO a "gold standard pollster."
Recent national media coverage includes:
CNN: Pennsylvania drowned Democratic hopes in 2016, but 2018 looks far different
CNN: Why the Electoral Battlefield is Expanding
Associated Press: Wagner as governor spurs questions of business conflicts
CNBC: A new Pennsylvania Poll is Filled with Bad News for Republicans
CNBC: Trump aims to help an early ally take down a well-funded Senate Democrat in swing state Pennsylvania
Bloomberg News: Conor Lamb Win Energizes Labor Unions' Approach to Midterms
NPR: Pa. poll reinforces theory of Democrats' 2018 wave
Philadelphia Inquirer: Pa. Dem congressional candidate is 'Trumpish' on immigration. Will the party stop him?
Philadelphia Inquirer: Pa. gerrymandering's surprise co-conspirators: Democrats
The Atlantic: Why Stormy Daniels Poses a Problem for Democrats
In addition, a series of national climate and energy-related surveys the Institute's student team did in conjunction with the University of Michigan's Center for Local, State, and Urban Policy have received coverage this spring in national outlets including Daily Kos, Vox, Grist, EcoWatch, EnvironmentGuru.com and GreenWire, plus several international news outlets.
According to FiveThirtyEight, the Institute of Public Opinion at Muhlenberg predicted 91 percent of races correctly. The Institute earned an A in FiveThirtyEight's most recent 2016 Pollster Ratings.
The polling center collaborates with Muhlenberg's public health program and its psychology department to ensure unbiasedness and survey accuracy. In order to provide research that meets the high standards of the American Association of Public Opinion Research (AAPOR), all institute personnel—that is, the student workers—are trained to follow standard scientific practices. The facility is equipped with a computer-aided telephone interviewing system plus data entry and analysis capabilities. Surveys are conducted over the phone using randomized data to generate phone numbers.
To learn more about Muhlenberg's latest polls and find detailed survey results, visit the Institute's website.