Muhlenberg College Announces Appointment of Brian Speer as Vice President of Communications
Speer will oversee the office of communications and serve as a member of the President's senior staff, effective June 11.
Thursday, May 31, 2018 10:35 AM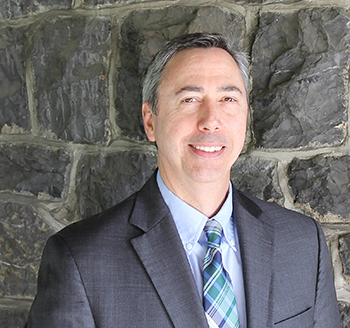 Brian Speer joins Muhlenberg on June 11 from Wilson College, where he serves as vice president for marketing and communications. Prior to his time at Wilson, he served in various communications roles at Colby College, including as director of integrated marketing and design and as design director.
He brings to the College expertise in strategic communications and brand management, experience managing integrated marketing efforts in competitive liberal arts environments, and deep knowledge of digital, print and social communications strategies.
"Brian rose to the top of a highly competitive and diverse pool of candidates that we identified through a comprehensive national search," said President John I. Williams, Jr. "We look forward to his arrival and to the valuable contributions he will make in bringing Muhlenberg's great strengths forward to our many constituencies."
"This is a great time to join Muhlenberg and build on the momentum the College has gained in recent years," said Speer. "The campus community was very welcoming, and I felt a real sense of energy and vibrancy during my visit. I'm looking forward to joining Muhlenberg and working with the communications staff and campus partners in continuing to raise the College's profile."
At Wilson, Speer led the way in building and integrating the college's first comprehensive communications and brand platform. At Colby, he created the award-winning "insideColby" student recruitment strategy that contributed to dramatic increases in applications, yield and student selectivity.
Speer is a graduate of Ohio University, where he earned his Bachelor of Fine Arts in graphic design. He is a member of the Public Relations Society of America, the American Marketing Association, the American Institute of Graphic Arts and other leading industry groups.
Founded in 1848, Muhlenberg is a highly selective, private, four-year residential, liberal arts college located in Allentown, Pa., approximately 90 miles west of New York City. With an undergraduate enrollment of approximately 2200 students, Muhlenberg College is dedicated to shaping creative, compassionate, collaborative leaders through rigorous academic programs in the arts, humanities, natural sciences and social sciences as well as selected pre-professional programs, including accounting, business, education and public health. A member of the Centennial Conference, Muhlenberg competes in 22 varsity sports. Muhlenberg is affiliated with the Evangelical Lutheran Church in America.