Midterm Elections: Muhlenberg Students and Professor Chris Borick on BBC World News
The segment will air Tuesday, October 30, on BBC World News, the 24-hour news channel seen around the world, and on BBC World News America on PBS stations around the country.
By: Kristine Yahna Todaro Monday, October 29, 2018 06:01 PM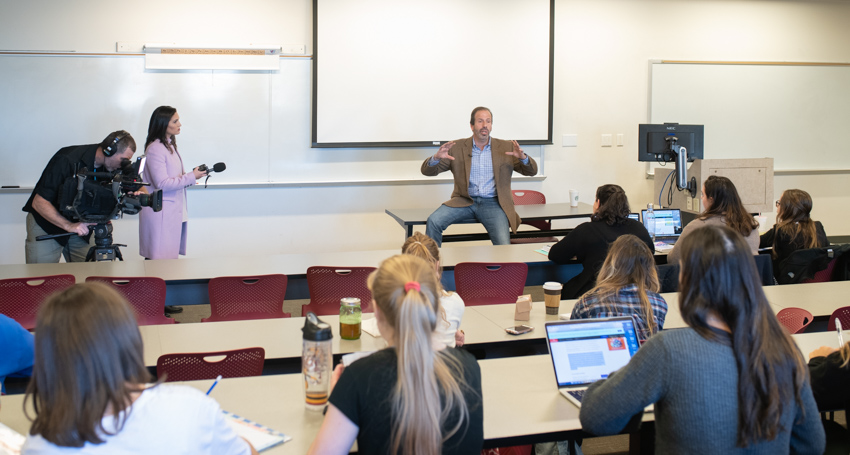 Reporters from BBC World News film students in Professor Chris Borick's Campaigns and Elections course as they discuss midterm elections.
The 25 students in the 'Campaigns and Elections' course on the fourth floor of Shankweiler Science Building hosted some guests on Friday. A film crew from BBC World News visited the class to learn more about the upcoming state and national midterm elections.
Taught by Christopher Borick, professor of political science and director of the Muhlenberg College Institute of Public Opinion, the course examines American elections, campaigns and voting behavior within the broader context of political representation and electoral systems. The students look at the rules, strategies and behaviors governing elections in the United States and the internal and external factors influencing the American voters' decision-making process.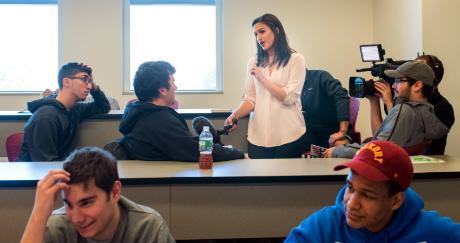 Pennsylvania and national midterm elections are playing a major role in the course and the film crew listened in as the students discussed current candidates and campaigns predictions and interviewed Borick.
The footage will be part of a news story that will air Tuesday, October 30, beginning at 8 a.m. ET, on BBC World News, the 24-hour, global news channel.
It will also air Tuesday evening on BBC World News America on PBS stations across the country including 6 p.m. on Lehigh Valley's PBS39/WLVT and 7:30 p.m. on Philadelphia's WHYY at 7:30 p.m. Check local listings for viewing times in other areas.