Home District Advantage
A summer internship in her representative's office allows this rising junior to work on the issues she cares about most.
By: Meghan Kita Wednesday, July 11, 2018 08:20 AM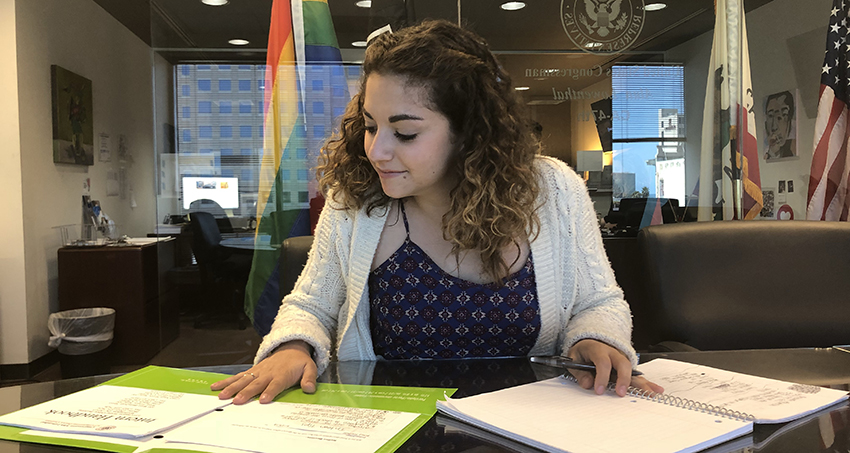 Riley Minkoff '20 at her summer internship in Representative Alan Lowenthal's Long Beach, California, district office. Photo courtesy of Riley Minkoff.
In Representative Alan Lowenthal's Long Beach, California, district office, interns support the local constituents as well as the six to eight full-time staffers. This means fielding a lot of calls: opinions on House bills, questions on government paperwork and so on. When interns are not on the phone, they compile information on pending legislation, constituent cases and anything else staffers need to learn more about.
Riley Minkoff '20 has plenty to do at her part-time internship here, but as she researched one local case—that of a gay man seeking asylum from Nigeria who was being held in a nearby detention center—she felt moved to do more.
"The staff is always looking for ideas from interns or other staff members—there's a good energy in the office," says Riley, a political science major and Spanish minor. So, she and her manager brainstormed and came up with a plan for the office to host a roundtable on how immigration issues affect queer and trans people of color. Riley is now reaching out to local experts on this particular intersection of issues.
"The goal is to have the leaders in that community bring their voices to the table and have the chance to speak with and educate the congressman and his staff," Riley says. If it goes well, she hopes it will become a series that goes on after her internship ends, with each session dedicated to a different subject and its effect on local queer and trans people of color.
"You can't cover a wide range of issues in one sitting," she says. "You have to be specific and focus on one issue with one group to really hear what's important to them."
Riley, who hopes to run for office one day, chose the internship in her home district office over one in the congressman's D.C. outpost in order to work more closely with the constituents Lowenthal serves. She says that political science professor Michele Deegan helped her make that decision, and that political science professor Jack Gambino wrote a letter of recommendation to the College Alumni Board's Career Services Committee, which awarded Riley one of five $1,500 scholarships available for 2018 summer interns.
"What I love about Muhlenberg is how you truly feel like your professors are your friends and they have your best interests at heart," Riley says. "Whenever I have questions—like 'do you think this is a good idea?'—they are always there to sit down and have a conversation."
In her on-campus interview for the Alumni Board Scholarship, Riley demonstrated an ability to communicate effectively about the issues (LGBT, immigration and environmental) that matter most to her, says Dana Iannuzzi '03, vice-chair to the Alumni Board's Career Services Committee.
"She was passionate about politics and the country as a whole in a very unobtrusive way, open and honest about her opinions and willing to listen to other people," Iannuzzi says. "In my summation of her interview I said, 'This kid's going to change the world.'"