'Glory' slashes its way onto Muhlenberg stage
Faculty member Holly Cate's epic adaptation of Shakespeare's bloodiest histories holds court on the Muhlenberg College Mainstage, April 5-8
Tuesday, March 20, 2018 03:19 PM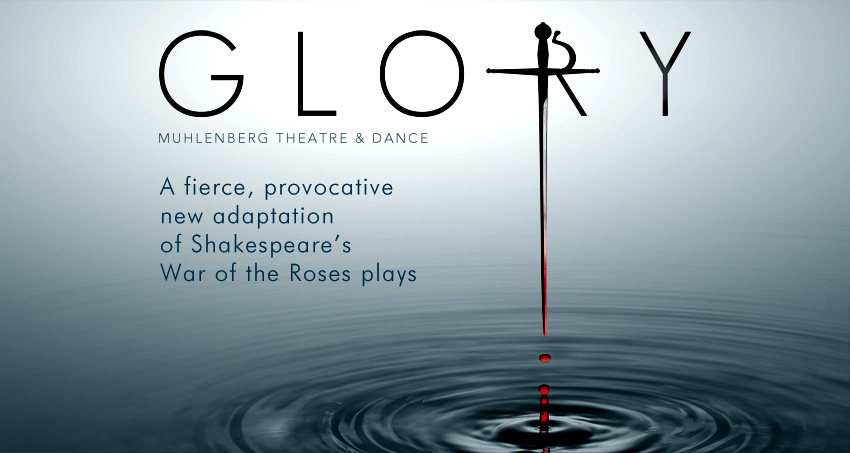 "Glory" plays April 5-8 in Muhlenberg's Empie Theatre, in the Baker Center for the Arts.
Shakespeare's Henry VI plays—among his most visceral, most political and most violent creations—come to the Muhlenberg College Mainstage this spring in a new world-premiere adaptation by theater professor Holly Cate. Cate's fierce, provocative adaptation examines what happens when the rule of law collapses and violence becomes the currency of state.
The play chronicles the early conflict between the competing houses of Lancaster and York—a period of simmering political intrigue which would eventually erupt into the Wars of the Roses, one of the bloodiest periods in English history. The production uproots these events, presenting them mostly free from their historical context—with a distinctly modern sensibility.
"I began working on this piece in 1993, shortly before the horrific genocides in Bosnia and Rwanda," Cate says. "I realized that Shakespeare was essentially writing about how quickly and almost imperceptibly society can fall apart. After that, 'Glory' became less about adapting the Henry plays and more about finding where they resonate in the contemporary world."
A unabashed depiction of a violent world, "Glory" features plenty of bloodshed—there are swords, battles, murders, and decapitations, all choreographed by faculty member Michael G. Chin. Chin is among the country's leading stage combat artists, having worked recently in television series "The Defenders" and "Blindspot" and serving as fight choreographer in Broadway and Off-Broadway productions, among many others.
"There are 40 acts of violence in the first act alone," Cate says. "It's a world that's saturated in violence. Our rehearsal process has been about raising the stakes and having the courage to bear witness to that world, which is not easy for the actors. Most of us don't live in that world."
Nineteen Muhlenberg students—plus associate professor of theatre Troy Dwyer, who gives a faculty spotlight performance as the ambitious and conniving Cardinal Winchester—make up the cast, playing characters ranging from blacksmiths and warriors to Cardinals and Kings.
"Cardinal Winchester is very aware that, in this world of political intrigue, the king is not important—the crown is important," Dwyer says. "He wants to be the man who controls the crown, regardless of who wears it. King Henry is particularly easy to manipulate—he's young and impressionable. We jokingly call him 'the marshmallow with thumbs.'"
Cate and Dwyer are frequent collaborators, having worked together many times in various configurations of actor and director—recently in "Then Athena," with Cate performing and Dwyer directing, and at Muhlenberg in "Three Sisters," also directed by Cate and featuring Dwyer.
"Holly is very much an actor's director," Dwyer says. "She's an actor herself, so she speaks our language. She really loves density and complexity on the stage; she sculpts every scene down to the molecule.
"I've known Holly for 12 years, and in one of the first conversations we ever had, she told me about this project — I've read drafts of all three plays along the way. I've always been a booster. 'Glory' has always felt really connected to my own artistic project," he says.
"Glory" is the first play in a trilogy by Cate, encompassing Shakespeare's "Henry VI," parts 1-3 and "Richard III." Part two of Cate's trilogy, "O War," is tentatively set to premiere next season on the Muhlenberg stage, with Dwyer at the helm. Part three, "Meaner Creatures," is penciled in down the road. Cate has focused on streamlining the story and keeping up a headlong, tumultuous pace; but, she says, the poetry is all Shakespeare.
"Shakespeare's history plays are really the action movies of his time," she says. "My goal is to make it accessible without stripping away the beauty of Shakespeare's language."
The result is 25 years in the making.
"It's very difficult to describe the feeling of having carried something in my imagination and my heart for so long, and of seeing all these artists come together and bring it to life," she says. "With the exception of Mike Chin and Matt Gill, our music supervisor, I'm working with an all-female production team, which has been incredible. Along with a terrific group of actors, they've made this experience a dream come true."
The production features design work by scenic designer Susan Zeeman Rogers, costume designer Grier Coleman, and lighting designer Christina Watanabe.
"I think it's going to be visually stunning," Dwyer says. "Muhlenberg is really fortunate to bring in really top-shelf, interesting guest designers. The scenic design is big and conceptual, and it really feels to me like the largest set I've ever seen in this theater."
Cate and Dwyer recognize that some audience members may find Shakespeare's histories a little intimidating, but they promise that this adaptation will be anything but dull.
"Holly has gutted the idea that Shakespeare is boring," Dwyer says. "'Glory' moves quickly. It's vivid. It's epic. It really does model the sprawling, multi-year, multigenerational epic of sword-and-crown intrigue. It's hard to not get into that if you're made of western culture. It's hard not to feel it — the size of it. It feels mythic."
"I'm interested in making Shakespeare sexy—sexy and slick and dynamic," Cate says. "I'm hoping that 'Glory' will feel like the start of our very own almost-cinematic Shakespearean miniseries."
"Glory" plays April 5-8 — Thursday through Saturday at 8 p.m., and Sunday at 2 p.m. Regular admission tickets are $15. Tickets for youth and LVAIC students and staff are $8.
"Glory" is for mature audiences.
Tickets are available online at muhlenberg.edu/theatre or by phone at 484-664-3333. Performances are in the Empie Theatre, in the Baker Center for the Arts, Muhlenberg College, 2400 West Chew St., Allentown.
Founded in 1848, Muhlenberg College is a highly selective, private, four-year residential college located in Allentown, PA., approximately 90 miles west of New York City. With an undergraduate enrollment of approximately 2,200 students, Muhlenberg College is dedicated to shaping creative, compassionate, collaborative leaders through rigorous academic programs in the arts, sciences, business, education and public health. A member of the Centennial Conference, Muhlenberg competes in 22 varsity sports. Muhlenberg is affiliated with the Evangelical Lutheran Church in America.
Muhlenberg offers Bachelor of Arts degrees in theater and dance. The Princeton Review ranked Muhlenberg's theater program in the top twelve in the nation for eight years in a row, and Fiske Guide to Colleges lists both the theater and dance programs among the top small college programs in the United States. Muhlenberg is one of only eight colleges to be listed in Fiske for both theater and dance.