First-Year Seminar: Queer Media
Representations of queer characters in pop culture generate lively discussion in this writing-intensive course.
By: Meghan Kita Wednesday, January 10, 2018 03:31 PM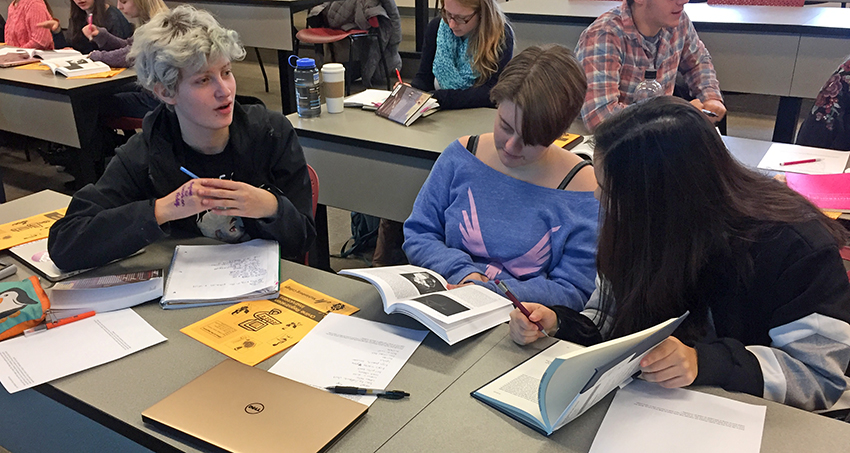 Students discuss an image during the first-year seminar Queer Media. Photo by Meghan Kita.
Last fall, staffers from the Office of Communications sat in on a number of first-year seminars to observe how Muhlenberg introduces its new students to college-level writing. Professors from a variety of disciplines design and teach the courses. Some select a topic that's closely related to their academic specialty, while others choose something they're personally passionate about. While the seminars vary widely in subject matter and structure, they all share the same end goal: to teach students to think critically and analytically when constructing an argument.
"The difference between high-school and college writing is less a matter of style than of attitude," says English professor Jill Stephen, who co-directs the Writing Program with fellow English professor David Rosenwasser. "Rather than framing a single argumentative claim and repeatedly demonstrating that it is 'right,' students in first-year seminars learn to treat ideas as hypotheses to be tested."
The seminars are small—limited to 15 students each—and each one has a paid writing assistant, a returning student who has completed a credit writing theory course, attends all the classes and works with first-year students inside and outside the classroom to develop their writing skills. Thirty-three seminars are offered in the fall, with another eight offered in the spring. Here's a glimpse at one of the seminars that took place last semester.
If the first-year seminar Queer Media were graded solely on participation, all these students would get As. Each time Beth Corzo-Duchardt, the visiting assistant professor of media & communication who created the class, asks a question, hands shoot into the air and students bounce in their seats, eager to share their viewpoints.
This writing-intensive course examines queer representation in mainstream media. Today, the class is discussing Austin Powers. In the course's textbook, "In a Queer Time and Place: Transgender Bodies, Subcultural Lives" by J. Jack Halberstam, the author argues that the International Man of Mystery "is kind of like a drag king, in that he's performing an outdated masculinity that functions to call attention to the way dominant masculinity is constructed," Corzo-Duchardt says.
Students have strong opinions about the film: About the movie's Fembots, one student says, "Really? Machine guns coming out of their chests?" Another, referring to the main female character, says, "Can a female heroine just be not sexualized and be plain looking and fully clothed?" The students weigh in on Austin himself, too: "He's sort of this parody of a sexist man, but he also makes such a fool of himself that he's the joke that we're laughing at," one says.
The course, like all first-year seminars, requires students to make careful observations—in this case, about works like "Carol," "Hedwig and the Angry Inch" and "Orange Is the New Black"—they can use to support verbal and written arguments. Corzo-Duchardt, a film and TV scholar, says the course is "a great way to introduce students to more academic ways of thinking about queerness, and to introduce them to contemporary queer theory as an introduction to college theory."