Farida Jalalzai will Present 'Women's Political Empowerment Across the Globe'
An expert on women in executive leadership and politics, Jalalzai will speak on campus March 14.
By: Iulia Tibrea '18 Monday, March 5, 2018 09:37 PM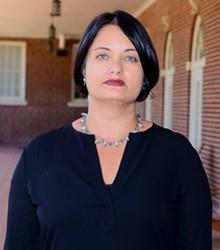 Professor and author Farida Jalalzai, whose work focuses on women national leaders, will discuss "Women's Political Empowerment Across the Globe," at 7:00 p.m., Wednesday, March 14, in Moyer Hall's Miller Forum at Muhlenberg College. The event is free and open to the public.
The Hannah Atkins Endowed Chair and professor and interim head of political science at Oklahoma State University, Jalalzai has studied female leaders and gender power and dynamics for decades. Her research analyzes the representation and behavior of women and minorities in politics and the role of gender in the political arena.
Women now hold the majority of post-secondary degrees in the United States. Nonetheless, women currently hold only 5.2 percent of CEO positions at S&P 500 companies, according to the global nonprofit Catalyst, and only 11 percent hold other top-earning positions in such companies. According to Women in International Politics, only 6.3% of international leaders, such as heads of state and government, are women in 2018.
Jalalzai's first book, Shattered, Cracked and Firmly Intact: Women and the Executive Glass Ceiling Worldwide (Oxford University Press 2013, updated paperback 2016), offers a comprehensive analysis of women, gender, and national leadership positions. She is also the author of Women Presidents of Latin America: Beyond Family Ties? (Routledge 2016), which examines several case studies of women presidents in Latin America. Her latest book projects include a co-edited volume Measuring Women's Political Empowerment Worldwide with Amy C. Alexander and Catherine Bolzendahl (Palgrave 2018), and Senhora Presidenta: Women's Representation in Brazil during Dilma Rousseff's Presidency with Pedro dos Santos (under contract with Temple University Press).
Jalalzai is also frequently featured in high profile media outlets such as Christian Science Monitor, PBS Newshour, Politico Magazine, The Atlantic, The Washington Post, The New York Times and The Guardian.
Her talk is sponsored by the Muhlenberg College department of political science, Latin American and Caribbean studies, women's and gender studies, and Lectures & Forums.
For more information, please contact Lanethea Mathews-Schultz, professor and political science department chair, at lanetheamathews-schultz@muhlenberg.edu.