Checking in With Jacy Good '08
A car crash on the way home from Commencement killed her parents and left her permanently injured. Today, Good and her husband, Steve Johnson '08, speak to more than a hundred groups annually about the dangers of distracted driving.
By: Meghan Kita Thursday, October 25, 2018 02:14 PM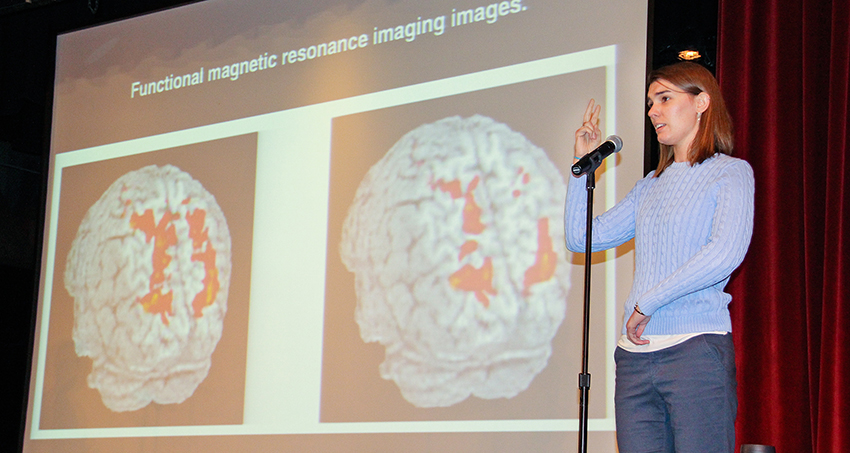 Jacy Good '08 speaks about the dangers of distracted driving. Photo courtesy Jacy Good.
At this time 10 years ago, Jacy Good '08 had just been released from inpatient rehabilitation. Her left arm was paralyzed, as was the lower portion of her left leg. She had survived a crash that killed both her parents and injured her so badly that doctors estimated she had a 10 percent chance of survival. The crash happened just hours after she received her diploma at Muhlenberg's 160th Commencement, on the way back to her childhood home near Lancaster, Pennsylvania. The crash happened when a tractor-trailer swerved to avoid a driver who, while talking on his cell phone, attempted to turn left at a red light.
"Every individual thinks it's okay when they're doing something on their phone because they're a safe driver, they're an above-average driver and it's only dangerous when someone else does it," Good says. "They won't change until distracted driving touches them somehow."
Good's story touched a national audience when she appeared on The Oprah Winfrey Show in 2010, and that exposure led to a slew of speaking requests. Today, she and her husband, Steve Johnson '08, are full-time public speakers, with 140 to 160 engagements annually at schools and corporate events across the country.
"I've found that I can pull people into my life, that they can feel connected enough to me that they're able to use that to change their own behavior," Good says.
Creating Connections
Good first began sharing her story publicly in 2009 to support a Pennsylvania bill banning handheld phone use, a bill that ultimately did not pass. The state does ban texting while driving, but enforcing such a law is next to impossible when it is legal to use a phone to place calls. States with handheld bans do see a decrease in collisions, she says, likely because people use their phones less when police officers are able to pull them over just for handling one.
However, the process of trying to effect political change was frustrating: "All Democrats voted for it; Republicans declared it an invasion of civil liberties," Good recalls. "The fact that it's a partisan issue doesn't make any sense to me."
And, science shows that a driver is still distracted even if they're using hands-free technology to call or text while driving. "A big part of it is situational awareness when your brain is trying to accomplish these two tasks at once," Good says. "If you're talking to someone you can't see, you're trying to picture where they are and their body language."
That's part of the message Good and Johnson deliver during their speeches: that no phone use while driving is safe. Their campaign is called Hang Up and Drive, and Good is selective about whom she'll work with because most initiatives don't go far enough.
For example, she appeared in a PSA sponsored by AT&T in 2016 called It Can Wait. "AT&T had been asking me to be part of their campaign for many, many years," Good says. "When they first started the campaign, it was only about texting. I never agreed to do it." The ad that ultimately ran targeted all phone-related distractions.
Looking Ahead
Phones are designed to be addictive, Good says, and cell providers and automakers have no financial incentive to discourage drivers' phone use. As such, she believes the only true solution to the problem of distracted driving is the complete adoption of self-driving cars.
Since that reality is decades away, she'll continue to speak "as long as people are still dying on the roads because of this really selfish decision that a phone is more important, as long as I feel like that demand is there."
She and Johnson have spoken in 35 states so far; they travel to Hawaii—"every public speaker's dream," Good says—for seven events starting this weekend.
It helps to see the difference they're making, Johnson says: "When people come up to us after a presentation and tell us, 'I'm a bad offender but I promise that you've changed my mind,' that's the kind of positive feeling that, in our lower moments, we can fall back on."