Behind the Scenes of Philadelphia's Media World
During my last fall at Muhlenberg, I took advantage of an opportunity to meet employers in the field that I am interested in.
By: Phelize Bristol '19 Wednesday, November 14, 2018 03:08 PM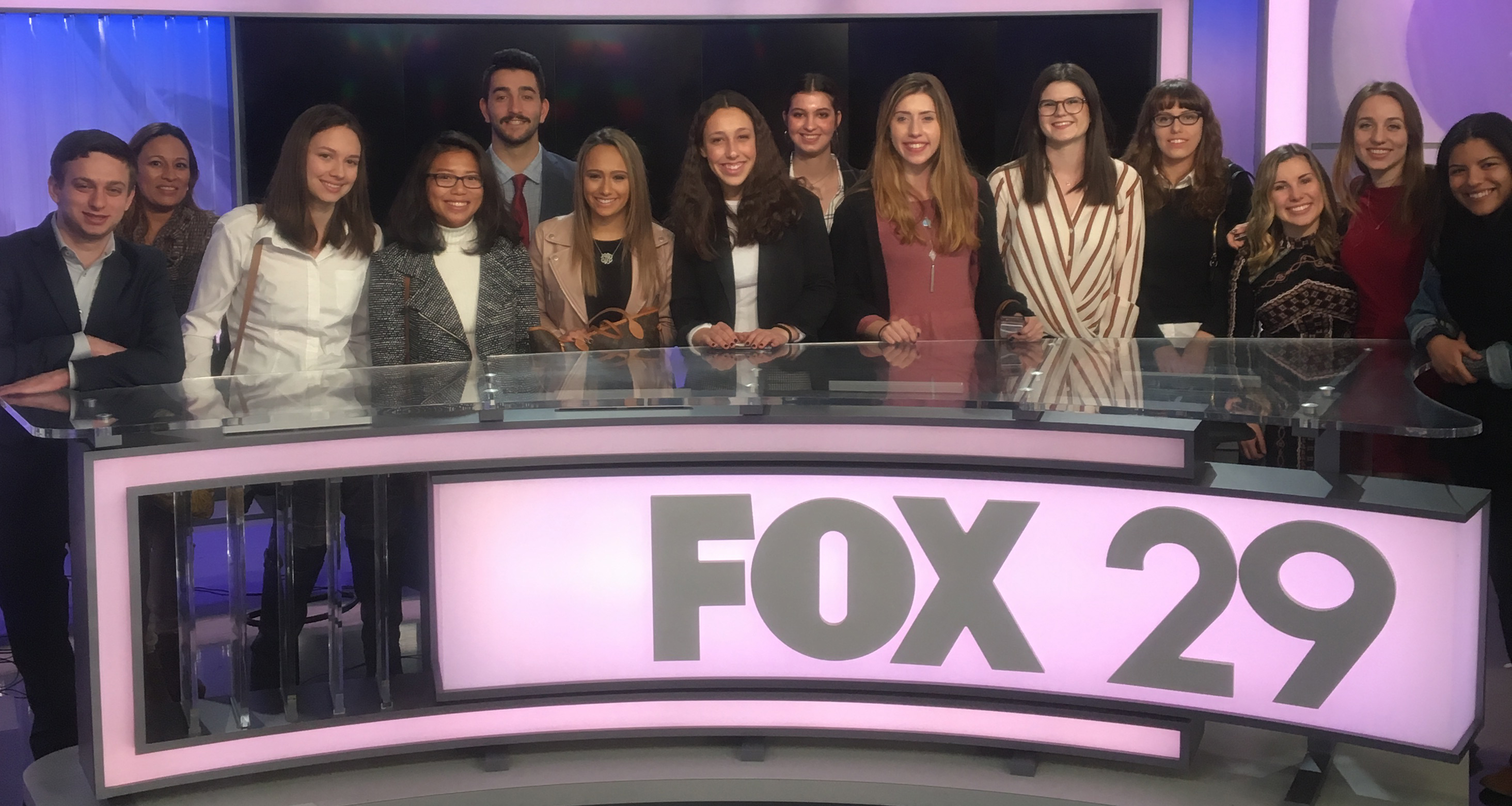 Students on the Philadelphia Career Road Trip visited Fox 29 and WHYY. The author, Phelize Bristol '19, is on the far right.
Last week, I went on the Career Center's Career Road Trip to Philadelphia. We visited the studios of Fox 29 and WHYY, locations that appealed to me as a media & communication major. I especially enjoyed our time at WHYY, a public radio station. I have a radio show on WMUH, the College's station, so it was interesting to me to be in an environment that could potentially be my future after Muhlenberg.
I am not 100 percent sure what I want to do after graduation, but I do know I want to work in the media field. Right now, I am taking Media Design Lab, a Culminating Undergraduate Experience (CUE) course in which media & communication seniors choose a form of media to focus on and use that to create an ePortfolio. I'm focusing on podcasts, so being at WHYY—where they produce both radio and podcast segments—helped me gain a better understanding of the tools I have here at Muhlenberg and how I can use them in a professional setting.
We also had the opportunity to talk to a panel of women who work at the station in various areas: writing, social media, human resources. I got to ask questions about how they come up with ideas for shows and what they look for in interns. One of the answers I received was that they want to see personality and true interest when reading cover letters. They said that they can always tell when it is a generic cover letter that is meant to be sent out to many employers. Before we left, I was able to set up a phone meeting with one of the women who works in WHYY's HR department.
The day finished with a networking event at a pub, where we were able to meet alumni who work in all kinds of fields. It was a fun event, and I got to see some recent alumnae whom I knew from my sorority, Alpha Chi Omega. It was exciting to hear them talk about their current jobs and interests and get their advice for life after Muhlenberg.
Participating in the Career Road Trip helped me learn firsthand why the experts at the Career Center say networking is so important, and the day also allowed me to practice my networking skills. In fact, I've already spoken with the connection I made at WHYY about future internships.