A Show Business Transaction
An alumnus found talented actors to bring his short play to life; the students he cast made their Manhattan stage debut.
By: Meghan Kita Thursday, June 28, 2018 09:35 AM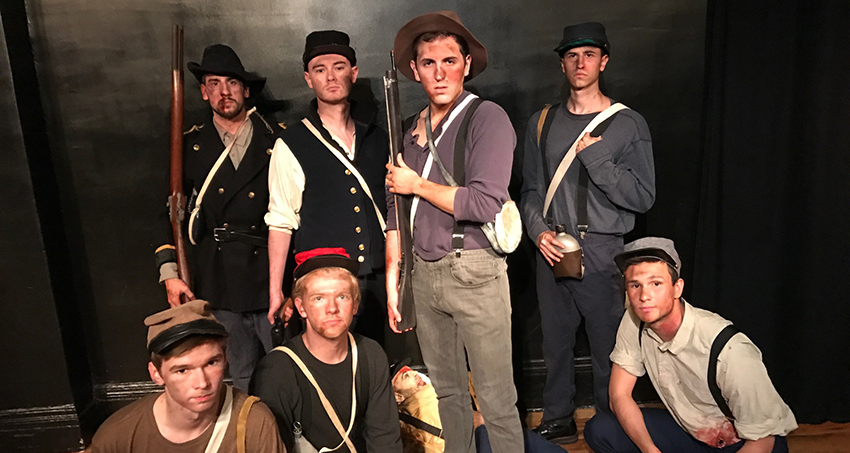 The cast of "Spangler's Spring," clockwise from top left: Dan Pellicano, Patrick Daly '20, Jacob Wahba '20, Itai Rembaum '20, Tommy Gedrich '21, Thomas Riley '21 and Jesse Boies. Photo courtesy of Jason Boies.
The actors entering the small stage of the Manhattan Repertory Theatre must tread carefully over the bodies splayed on the ground. In the low light, it's hard to tell who's dressed in Union blue and who's in Confederate gray, and as the lights dim further, the audience sees only silhouettes. As the surviving soldiers search for water at dusk, what they have in common becomes more important than their differences.
Of the seven actors in "Spangler's Spring," a 10-minute Civil War play by Jason Boies '87, five are current Muhlenberg students, performing in New York City for the first time.
"All of us have the shared dream of working in New York in the entertainment industry," says Jacob Wahba '20, a theatre and media & communication major who plays a soldier whose allegiance is never revealed. "We've all seen professional theatre in New York, but it was a whole different perspective for us to dive in and experience firsthand what it's like to be a working actor."
Jacob and the other students got this opportunity thanks to the Muhlenberg network. "I needed a number of young, student-age soldiers," Boies says. "Immediately, I thought, 'Muhlenberg is a great source.' I know it's one of the top programs in the country."
Boies, a history-government major who was active in theatre at Muhlenberg, knew from Facebook that a former classmate—Alison Newberg Schultz '88—had a daughter, Evan Schultz '21, in Muhlenberg's theatre program. Boies talked to Newberg Schultz, who talked to Evan, who talked to Jacob. He was interested in learning more, so Boies sent him the script. Impressed, Jacob signed on and found four friends to round out the cast for the play's debut on May 17.
"I couldn't really audition them, but knowing he was recruiting guys from the theatre department who were actively performing in Muhlenberg productions, I assumed they were exceptional actors," Boies says. "They were all terrific; it was just a matter of fitting the right person for the right role."
During the group's four rehearsals, the actors and the playwright collaborated to produce the finished product, Jacob says: "Jason was so open to our opinions as he is still workshopping his new play, encouraging us to take his amazing script and further develop our characters."
The performances in May at the Manhattan Repertory Theatre were part of a sold-out showcase of new plays. Boies is nailing down a date for the same cast to perform in Gettysburg—the site of the actual Spangler's Spring—next month before their return to New York for a performance at the Equity Library Theatre on August 4.
"Muhlenberg theatre has grown so much through the years, but it's awesome to see that the same heart and passion still exists. This experience showed us the importance of networking and not being afraid to go for opportunities that you hear of or that are graciously given to you," says Jacob, noting that rehearsals began at the same time as Muhlenberg's finals week. "It was hectic, but we were all happy we made it work."