A Seat at the International Table
Brigid Deegan '19 spent the summer immersed in meetings and negotiations at the United Nations on behalf of the Republic of Palau.
By: Meghan Kita Tuesday, August 21, 2018 08:48 AM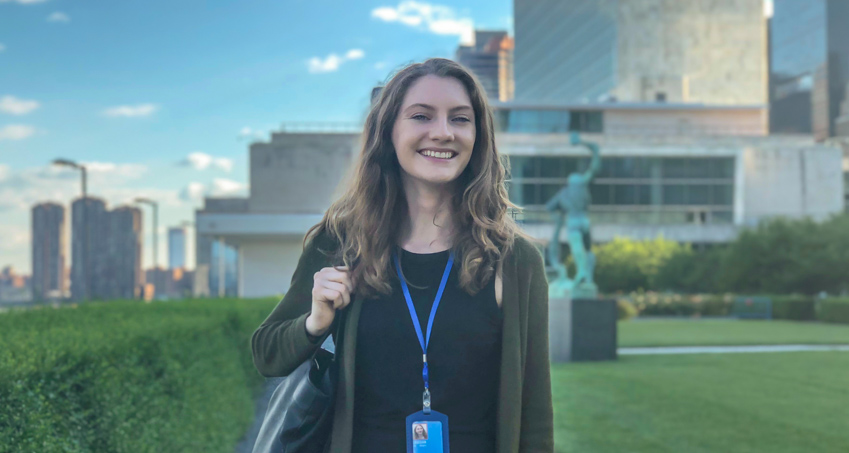 Brigid Deegan '19 worked for difference on the international stage with a summer internship at the United Nations. Photo courtesy of Brigid Deegan.
Brigid Deegan '19, a political science major with a minor in Italian studies, was one of the student workers who recently conducted research on climate change for the Muhlenberg College Institute of Public Opinion. That report, which was released in July, found that 73 percent of Americans "think that there is solid evidence of global warming."
In the Republic of Palau, which consists of more than 300 islands in the western Pacific Ocean, there is liquid evidence of global warming: The nation's president said in a 2017 interview that the garden his wife used to keep behind their house now floods at high tide.
This summer, Brigid interned for the Republic of Palau's United Nations ambassador, Ngedikes Olai Uludong, an expert on climate change who helped negotiate the Paris Agreement. (Palau was the second nation, after Fiji, to ratify it.)
"Working for a nation whose political allies will literally be under water in a matter of years was alarming for me," Brigid says. "While the United States government does not currently recognize or support climate change action, not only is the rest of the world forging ahead without us, but they are feeling the direct impacts of climate change in this moment with great severity."
The internship came about through a long-standing partnership between Muhlenberg and the Humpty Dumpty Institute (HDI), a non-profit public-policy organization. Its Higher Education Alliance, of which the College is a part, facilitates UN internships for qualified students.
Chris Herrick, professor of political science and director of international studies, is the HDI's point person on campus. Brigid, who impressed Herrick with her communication and teamwork skills in class, told him she wanted to intern with an intergovernmental organization.
"I am drawn to multilateral collaboration as I think it's essential for our future," Brigid says. "Isolationism serves no one, and with increasing environmental and security concerns, it is essential that we keep dialogue open in order to meet current and future threats."
Herrick pointed her toward the HDI program, and HDI paired Brigid with the Republic of Palau based on her skills and interests. She earned one of five $1,500 scholarships available for 2018 summer interns from the College Alumni Board's Career Services Committee to help support this unpaid, full-time position.
"Past Muhlenberg students have had internships with the delegations from several Latin American countries," Herrick says. "In each case, these delegations are small and as a result, Muhlenberg students are given considerably more responsibility by the delegation than would be the case with an internship at a large UN delegation."
Palau's delegation is also small, so Brigid had many responsibilities, from taking notes in meetings and negotiations to preparing talking points for the ambassador to writing grants.
"I made a really close connection with the Ambassador and staff of the Palau Mission and really grew a deep respect for their dedication to their country," Brigid says. "Being able to work alongside Ambassador Uludong was particularly empowering for me because I was able to closely observe how a female from a small island nation state could amass so much power and influence in spite of her gender and representation from a small nation."