Analyze This
A.J. Barnold '09 examines video and data to help U.S. women's soccer be the best in the world.
By: Mike Falk Friday, July 13, 2018 09:28 AM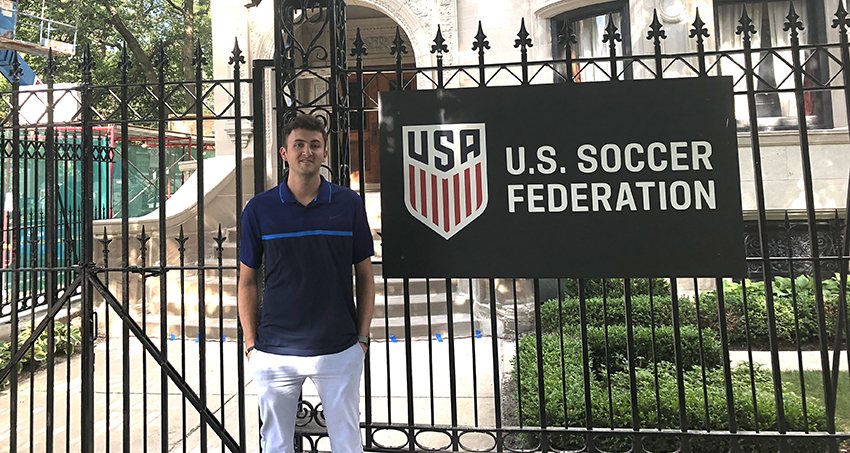 A.J. Barnold '09 at the "Soccer House," a refurbished mansion on the South Side of Chicago where he analyzes video and data for the U.S. Soccer Federation. Photo courtesy of A.J. Barnold.
Soccer has taken A.J. Barnold '09 from the top of the Centennial Conference to the top of the world.
Barnold, who played on Muhlenberg's 2005 Centennial Conference championship men's soccer team, was recently hired as a performance analyst by the U.S. Soccer Federation. He works within the High Performance Department and is assigned to the Women's National Team (USWNT), the No. 1 ranked team in the world.
"If you had told me when I was at Muhlenberg, or even a few years ago, that I'd be working with the best team in the world, I maybe wouldn't have believed you," says Barnold. "But it's exciting and it's a privilege to be able to work with these people day in and day out."
Working out of the "Soccer House," a refurbished mansion on the South Side of Chicago, Barnold analyzes video and data from the USWNT and its opponents and combines them into reports that the coaches and players can turn into actionable information.
Analytics have been creeping into sports for most of this decade, most notably in baseball since the film "Moneyball" was released in 2011. According to Barnold, it's a little newer in soccer, and just like in baseball, Major League Soccer (MLS) teams are all over the map in terms of which teams use analytics and which teams don't.
"Professional teams worldwide, especially in Europe, are very much bought into it now," he notes. "A team like Manchester City, for example, has many full-time analysts who work not only with the first team but all the way down through the Academy."
It's no coincidence that Barnold's supervisor, James Bunce, came to U.S. Soccer to head the High Performance Department last year after serving in a similar role for the Premier League in England—arguably the best professional soccer league in the world.
Barnold received his master's in sports psychology from Temple University before returning to Muhlenberg for two seasons (2011-12) as an assistant coach, where he did considerable work with video. He had a phone interview for an analyst position with an MLS club while he was an assistant at Lafayette College (2013-14).
"At that point it was very new in MLS," he says. "They essentially said, 'We think you could do it, but we have people who have been employed as performance analysts who have applied as well.' That made perfect sense to me, and it piqued my interest in performance analysis as a growing field in soccer."
Barnold left Lafayette for the University of Virginia, where his title was operations assistant but the vast majority of his duties revolved around performance analysis. He says it was a perfect way for him to transition from coaching to his new field.
After helping UVA to three straight appearances in the NCAA Division I Tournament, Barnold accepted the position at U.S. Soccer in May 2018.
"In terms of analyzing performance data, there are not too many people in our industry with the skill set he's acquired during his time at Virginia," head coach George Gelnovatch said upon his departure. "A.J. worked hard to master his craft, proving to be a real asset to our staff and student-athletes."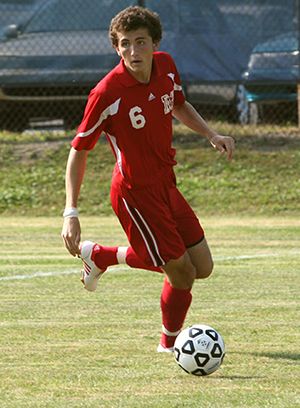 Barnold is no mere number-cruncher, holed up in a booth surrounded by spreadsheets and video clips. His success as a player—he was a three-year starter and first-team All-CC center back for the Mules—and as an assistant coach give him credibility with the USWNT players and coaches.
"I have found that to be good at my job, having the coaching background and having the knowledge of what information the coaches are relaying to players—what the tactical decisions are, what the game plan is, et cetera—helps me focus my analysis better," he says. "I'm involved with the coaching staff to a point where it allows me to get that tactical understanding and tailor the video and data that I present in a more specific way."
Barnold travels with the USWNT to all training camps and matches, and he says it was on a recent trip to play China (once in Utah, once in Cleveland) that it really hit him who he is working with.
"It's very cool," he says. "Obviously I've watched them on television during the last World Cup and since then, but it's different to see it in person. It's even more impressive in person than it is on television."
If all goes well and the USWNT survives the qualifying rounds this fall, Barnold will accompany the team to France as it tries to defend its 2015 World Cup title next summer. And he'll take not just the analysis talents he's honed so well over the last several years, but also some skills he learned as a liberal arts student at Muhlenberg.
"Something we talk about in the analytics world is having the ability to relay complicated information to players and coaches and not talk to them in a super technical language," he says. "I did a lot of research as a psychology major at Muhlenberg, and the work I did with data helped my comfort level with being able to pull out what's important and put it into a context that's easy for people to understand.
"When I was in grad school and coaching, people would ask, 'Do you use your psychology background in your job?' Even if it's not directly, intentionally using a concept or a theory, it's always still in the back of my head. It has definitely shaped the way that I do my job."
Barnold shared some of his experiences this spring during Alumni Week, an event organized by the Muhlenberg Career Center that takes advantage of the powerful Muhlenberg network by introducing alumni from 16 academic departments—including psychology—to current students.
"It doesn't seem like as long as it has been since I was sitting in those classrooms in Moyer and walking down Academic Row," he says with a chuckle. "I was at their point in terms of not really being sure where my education and my career would go. I appreciate having the opportunity to be able to relay my experiences by showing them a pathway or giving them advice on how to end up where I have."
Still very much engaged with his alma mater, Barnold keeps in touch with men's soccer head coach Sean Topping '98, occasionally offering tips on how analytics could benefit the Mules. And "engaged" took on a different meaning in June, when Barnold married former Muhlenberg classmate Nikki Lapin '09 in Egner Memorial Chapel.
"Even that speaks to what a role Muhlenberg played in our lives and how we still feel connected," he says.