A Lifetime of Learning
One 2018 graduate took an unconventional path toward earning her English degree.
By: Meghan Kita Tuesday, June 5, 2018 09:46 AM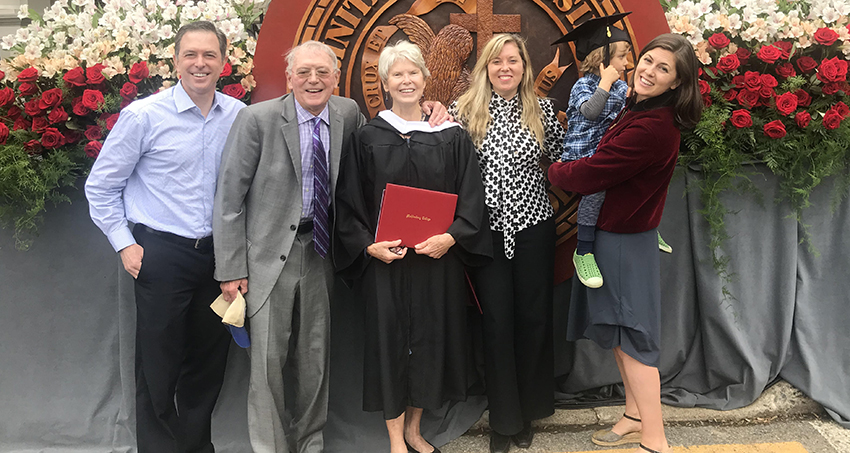 Patricia Canzano '18 and her family at Commencement, from left to right: son John C. Canzano, husband John W. Canzano, Patricia, daughter Ann B. Cush, grandson Athen Pyfer and daughter Lynn C. Pyfer. Photo courtesy of Patricia Canzano.
When Patricia Canzano '18 crossed Muhlenberg's Commencement stage to claim her bachelor of arts degree, the six family members who traveled to Allentown to witness this moment looked on with pride.
Well, except for Canzano's grandson, Athen: "My son is a wild, 3-year-old maniac and spent much of the graduation facedown in the grass," says Canzano's daughter Lynn Pyfer, who drove in from Brooklyn, New York, with her husband. "I'm not totally sure what he'll remember. I do feel that as he grows up, his grandmother's story will be an excellent reminder of how lucky he is to take college as an unquestioned step in his life."
A Dream Deferred
Canzano, 74, knew early on that college would not be an "unquestioned step" for her: She was the third of seven siblings, and her father told her soon after she entered high school that the family wouldn't have the money for her to pursue an undergraduate degree. Instead, she spent two years learning to be a court reporter, which became her career for a few years before she got married and started having children—two sons and two daughters—of her own.
"I still wanted the experience of learning and achievement," Canzano says. "I felt lacking, as though I were missing something because I was not able to go to college right out of high school. It's something that I yearned to do."
Canzano earned her first college credits from a philosophy course she took at Lehigh University in 1975. She was taking two of her children to summer programs nearby and fit in the class between dropping them off and picking them up. Then, life got busy, and her pursuit took a back burner.
"It's hard, especially with four children. They have so many needs," says John Canzano, Patricia's husband of 52 years who is a retired dentist. "She always thought of them first, and me, too."
Continuing Education
Fifteen years later, Canzano resumed her studies at Muhlenberg's Wescoe School of Continuing Education, a short drive from her home in Allentown. She usually took one course (two, tops) at a time, always in the fall semester, always in the evenings when John was home, completing the core requirements before declaring a major in English.
"I looked at courses that were available when I was able to attend," Canzano says of how she chose what to take—which is how she ended up in what would become one of her favorite courses, Biology of Birds with Daniel Klem, Sarkis Acopian Professor of Ornithology and Conservation Biology.
"We took a field trip down to the Jersey shore, leaving at 4 a.m. to catch the early birds," Canzano recalls. "I'm grateful that course just fell into my lap."
Meanwhile, her children were heading off to college: her daughters to Villanova and Notre Dame, her sons to Duke and Georgetown. She watched them all graduate and continue on to get advanced degrees. In 2011, she and John relocated to Hilton Head, South Carolina, where she wrapped up her final courses at the University of South Carolina Beaufort.
At Last, a Degree
With the exception of one of her sons, who stayed in Marietta, Georgia, to watch his son—one of Canzano's six grandchildren—graduate from middle school, the whole family returned to Allentown just weeks ago to witness a moment that was 43 years in the making.
"In the beginning, to be truthful, I thought, 'Why is she doing this?' I worked hard and had a good profession," John says. "She could have taken the easy way out and said, 'To heck with the darn degree.' However, I realized that Pat needed her degree to fulfill her lifelong dream. From that point, I did whatever I could to help her realize her goal."
Jane Hudak, dean of the Wescoe School who has been with Muhlenberg for 20 years, says she does not recall a graduate older than Canzano. And achieving this lifelong goal does not mean Canzano is finished learning. Her children joke that they're wondering what she'll study in grad school, but, she says, the University of South Carolina Beaufort currently doesn't offer advanced degrees.
Instead, she plans to take the Osher Lifelong Learning Institute (OLLI) courses offered there: "The people who teach these courses are wonderful: retired people, sometimes from places like Harvard and Dartmouth," Canzano says. "There's no homework, no assignments—it's just for enrichment."