A Career She Can Believe In
Alyssa D'Addio '11 earned a director-level promotion at the organization that helped facilitate her late father's organ and tissue donations.
By: Meghan Kita Wednesday, September 26, 2018 04:33 PM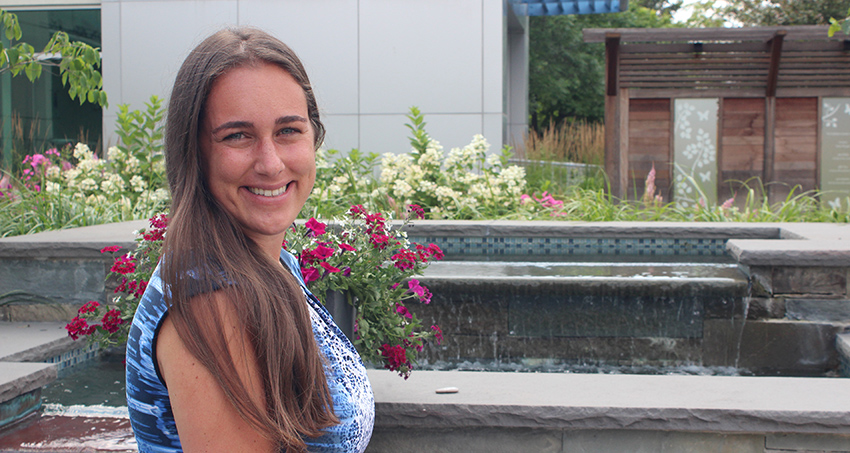 Alyssa D'Addio '11 was promoted to director of hospital and community services at NJ Sharing Network. Photo courtesy of Alyssa D'Addio.
When Alyssa D'Addio '11 was nearing the end of her sophomore year at Muhlenberg, her father died suddenly. The psychology major and business minor returned to her hometown of Stirling, New Jersey, to mourn with her family. But her Muhlenberg family—including her professors and her sisters in Alpha Chi Omega—kept in close contact, and she was able to come back to finish out the academic year.
"The support I received from the Muhlenberg community was absolutely amazing," D'Addio says. "If it were any other college, I don't think I would have returned weeks later to complete my final exams. The professors and students rallied around me giving me the support and guidance I so needed at that time."
This past spring, D'Addio was promoted to director of hospital and community services at NJ Sharing Network. The organ and tissue donation nonprofit facilitated her father's donations, which saved the lives of two people and helped more than 70 others. She began working with the organization as an intern the summer after her junior year, and she's been there ever since.
Two things happened to help make that possible. The first: After her father's death, Muhlenberg gave her a two-year grant to ensure she could finish her education.
"They offered it to me because they knew who I was and what I offered the College community," D'Addio says. "Other places don't know their students like that. It proved that the sense of family that I felt the first time I stepped on campus was true."
And then, during her junior year, she learned about the internship program offered through the Department of Accounting, Business, Economics and Finance. With the help of Associate Professor Michael London, she applied for and got an internship at NJ Sharing Network. There, she worked with the organization's College Outreach Program, to help educate students about donation and transplantation, and assisted with fundraisers to support transplant research, donors' families and education programs. The connections she made that summer helped her land a job after graduation, and she's since climbed the ranks to a director-level position.
D'Addio also met her husband, Michael Bialko '09 during her time at Muhlenberg, "another gift Muhlenberg gave me," she says. Together they have a son, Joseph—who is named after D'Addio's father.
"Muhlenberg instilled values in me that have shaped my life: Helping and supporting others in a major part of my day to day," D'Addio says. "Muhlenberg never stopped supporting me."