Why NOW is a Great Time to Take a Summer Class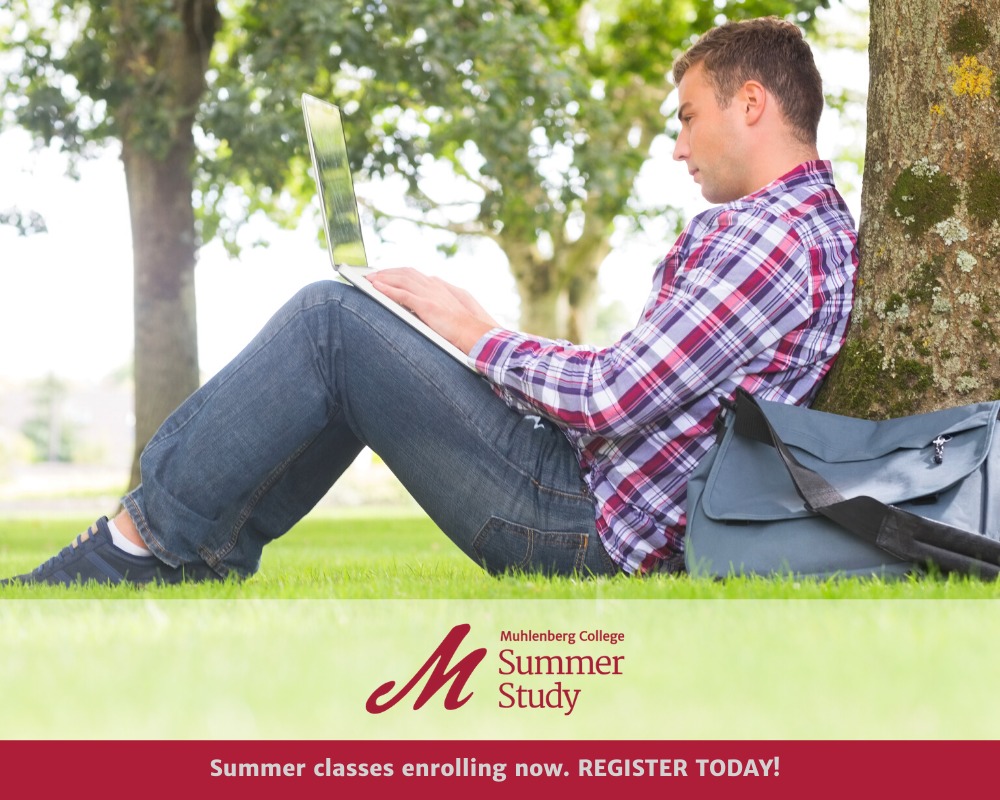 By: Jane Hudak, Dean, Muhlenberg College - School of Continuing Studies Wednesday, February 24, 2021 09:36 PM
You likely have lots of plans heading into this summer—from taking a long-awaited vacation and meeting up with friends to just simply soaking up some warmth and sunshine. But for many people, the hazy, lazy days of summer offer another benefit: the opportunity further your education with a summer study course.
Summer study classes are open to everyone, and at Muhlenberg College, students can choose from more than 80 courses taught by our exceptional faculty—no application required! Most often, we find that summer students do best when they're motivated by a personal or professional goal.
Let's take a look at 7 signs summer study may be right for you in 2021:
You can't wait to get back on campus.
As the COVID-19 pandemic moved learning online, it took away the opportunity to meet with other students in person and learn on campus. But with COVID-19 vaccinations now available and restrictions easing, Muhlenberg now offers a mix of summer study learning options. Some classes remain online. Others are a mix on-line and on-campus. And others 100% on campus.
If you're not a current Muhlenberg College student, you can use a hybrid or in-person class to experience all that our campus has to offer. If you're an existing student, a hybrid or in-person class can get you back to the environment you remember from not-so-long ago. And you can study outdoors under the shade of a tree or in the bright sunshine.
You're already "in the zone."
Some people crave routine. If you're one of them—and you're currently a student—you're already "in the zone" and balancing studies, home life and work life perfectly. Stopping now could cost you some momentum. Taking a summer study course will help you stay in your groove.
You're thinking about a new course of study—or a new major.
Life, it's said, is about choices. And when it comes to a college major, the choices are abundant. A report compiled by the U.S. Department of Education's National Center for Education Statistics released in late 2017 shored that 30% of undergraduates in associate's and bachelor's degree programs had changed majors at least once.
If you're looking to switch majors, a summer study class offers an affordable, low-risk way to explore a new course of study. Frustrated as an Accounting major? Try a Philosophy class and see whether it suits your needs. Not positive about continuing as an Education major? See if Finance might be more your speed. Always dreamed of starting your own business? Take a class in Innovation and Entrepreneurship Studies and see how it might help you reach your goal.
You want to hit the ground running in your major the fall.
Let's say you already know you want to study Computer Science. But come fall, you want to dive head-first into your major without having to balance your time between Computer Science courses and your needed prerequisites. Summer study allows you to complete core courses in areas such as Mathematics, English and Sociology sooner than later so you can put all your focus on courses in your major come fall.
You want to boost your resume.
If there's one thing employers in almost every industry can agree upon, it's that they love to meet college graduates who have taken initiative during their academic careers. Taking summer study courses sends future employers a clear message: that you went the extra mile to complete your education quickly so you could enter the job market sooner. And here's another tip: Taking summer courses allows you to throw your hat into the ring for fall internships, which often are less competitive than summer internships.
You want to catch up (or speed up) your graduation plans.
Did COVID-19 or other health or personal situations force you to miss some classes or skip a semester? Summer study can help you get all caught up. Or, if you've kept up with your coursework just fine, taking summer study courses can help you earn more credits toward an early graduation. And if you ace your summer classes, you may even boost your GPA!
You enjoy focused, accelerated learning.
Instead of squeezing one more class into your fall semester, summer study allows you to focus on one or two classes (or however many you choose to take). But since summer classes occur over a shorter time period (typically one month), the pace will be faster, which for some students is a nice fit.
Summer study brings many other benefits. Class sizes are typically smaller, so you get more time with your professors. There's plenty of parking. You may be able to get into that popular class that was fully booked last semester. And you'll still have time to take that summer vacation!
Get a full list of Summer Study 2021 courses at Muhlenberg College.
Interested in learning more about the Muhlenberg College School of Continuing Studies?
School of Continuing Studies Degrees and Programs.
About the Muhlenberg College School of Continuing Studies
For more than 100 years, Muhlenberg College's School of Continuing Studies has provided lifelong learners the opportunity to continue and enhance their education in ways that recognize their experience, maturity, motivation, life circumstances and capacity for independent scholarship. Through a rich variety of certificates and baccalaureate degrees, the School of Continuing Studies aligns a rigorous, high-quality and student-centric curriculum with the needs and trends of our regional economy.