Master's in Applied Analytics: How 4+1 Saves Students Time & Money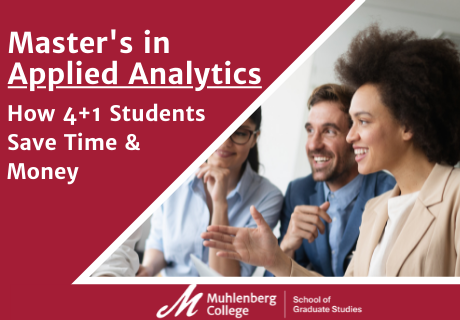 By: David Donnelly, Dean, Muhlenberg College School of Graduate Studies Friday, January 21, 2022 03:00 PM
How do you use data to tell an impactful story that goes beyond the numbers? That's the one question organizations of all types and sizes must answer effectively today. In an era defined by Big Data, telling the right story in 2022 can help both for-profit and not-for-profit organizations better understand their customers and clients, address large-scale problems, and make informed decisions that can impact society, deliver a higher level of service and even save lives.
As a result, many data analytics jobs bring the promise of six-figure salaries and high levels of job satisfaction. So, it's no surprise that more students nationwide are seeking a Master's in Applied Analytics degree as a way to explore a dynamic career path with unlimited growth potential.
To help our students attract attention from the leading employers, the Muhlenberg College School of Continuing Studies now offers a 4+1 Program. It allows students to save time and money while pursuing a Master's in Applied Analytics.
What is a 4+1 Master's in Applied Analytics Program?
In a traditional program, it takes between six-to-seven years to earn a Master's Degree in Applied Analytics. But in our 4+1 program, students can earn their master's in just five years. We double-count up to four classes for both degrees, allowing students to accelerate the process so they can reach their career destination sooner and potentially increase their earning potential. And because our program is one-to-two years shorter than a traditional program, 4+1 reduces the total cost of education without sacrificing the quality of the learning experience.
Who is the 4+1 Program for?
It's open to students currently enrolled in a four-year degree program at Muhlenberg College. They may express interest in the 4+1 program at any point in their educational journey. Choosing to pursue the program by their junior year will give students ample time to determine which courses they should take prior to starting their graduate studies.
New Muhlenberg College undergraduate applicants may also express interest in the 4+1 Program so they can plan their college experience accordingly.
To qualify for the program, students must maintain an overall undergraduate GPA of 3.0, complete four foundational courses in statistics and programming at the graduate or undergraduate level, and earn a B or higher in all undergraduate courses counting toward their graduate degree.
Can I Qualify Even if I'm Not a Mathematics or Computer Science major?
While the simplest path to the program is studying in a related undergraduate major like mathematics, computer science or statistics, any student in any major is eligible for the 4+1 program. Because almost every type and line of business makes strategic decisions today based on massive amounts of data, earning an advanced degree in applied analytics may benefit students studying sustainability, public health and a variety of other majors.
What Will I Learn in the 4+1 Program?
Students will get the skills they need to create data narratives that can help businesses tell an impactful story and define the human impact of their data. Students will also learn the latest in data visualization, discovering how to make data easier to interpret and understand for an organization's internal and external stakeholders and its customers.
Students in the program will work on team projects and build their competencies in areas like urban analytics, urban simulation, geodemographics, predictive analytics, population health, sustainability analytics and epidemiology.
What Makes Muhlenberg's 4+1 Program Unique?
We've designed every part of our program's curriculum ourselves. Our faculty members and subject matter experts interviewed experts in the field about the current analytical needs of industry, the skill sets they want their employees of tomorrow to embrace, and the tools those employees will need to master. We then used all of that knowledge to build a one-of-a-kind educational experience.
Our 4+1 program also embodies the best of Muhlenberg College's 100-plus-year liberal arts tradition, preparing students to be contributing members of society.
How Will a Master's in Applied Analytics Benefit Me?
The benefits are many. For one, the need for high-quality data analysts is growing. The World Economic Forum predicts that 85% of companies will have adopted data analytics technology by the end of 2022. This creates outstanding opportunities for people with advanced analytics capabilities to develop a career path for the long term.
In addition, achieving higher education brings more job security. In September 2021, the U.S. unemployment rate for workers with a college degree or higher was just 2.5% nationwide, while the unemployment rate for workers with no college education was more than twice that rate (5.8%). And the number of occupations that require a master's degree is on the rise, predicted to grow at a rate of 16.7% through 2026—more than twice the rate of growth projected for all occupations (7.4%).
Beyond these numbers, graduate programs help students experience a higher level of personal growth by enhancing the cognitive abilities they'll need to excel in the workplace. By developing distinct parts of their brain, students in master's programs develop an intellectual skill set that makes them better equipped to solve problems and make a positive impact on society.
How Do I Get Started in the 4+1 Program?
The earlier students know they want to pursue the 4+1 program, the better. Students can express interest by talking with their academic advisor, who will provide them with more information, help them start the formal application process, assist them on which classes they need to double-count toward both degrees, and set up their curriculum for success.
Interested in learning more about the Muhlenberg College School of Continuing Studies?
Set up an appointment with a Graduate Studies advisor.
Set up an appointment with a Continuing Studies advisor.
About the Muhlenberg College School of Graduate Studies
The Muhlenberg College School of Graduate Studies offers a variety of post-baccalaureate certificates and master's degrees aimed at enhancing intellectual and career development through challenging coursework grounded in the liberal arts. With a mix of graduate certificate pathways and master's degrees aligned with workforce and economic trends, the Muhlenberg College School of Graduate Studies enables students to prepare for professional work and career advancement, with a focus on leadership and innovation.