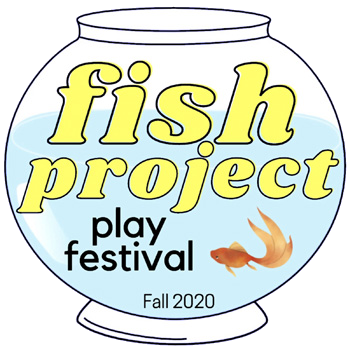 Fish Project Play Festival
Oct. 16-18 & 23-25, 2020
Presented by The Muhlenberg Theatre Association
in association with the Department of Theatre & Dance
The students of the MTA have created a wild, wide-ranging weekend of theatre projects — some pre-recorded, some performed live — exploring the potential and promise of virtual theatre performance. All project are directed, designed, and performed by Muhlenberg theatre students.
Festival Playbill [pdf]
All times below are Eastern Time (ET)
Added Show: GPS: An Auto-Erotic Comedy, will have another show on Saturday, Oct. 24, at 9:15 pm, due to technical difficulties.
---
Weekend A
Oct. 16-18



Friday 10/16
7:00 pm

Sunday 10/18
8:05 pm

ADDED SHOW:
Saturday 10/24
9:15 pm

GPS: An Auto-Erotic Comedy

by Bruce Kane
directed by Joey Marcacci

The sexy and suggestive computer voice of a high-tech automobile becomes jealous of the new owners girlfriend and threatens to destroy his life in this modern and very timely one-act play. This show pokes fun at the astoundingly huge advancements tech has made in recent years, and with all of our creations online for the semester, this comedy is the perfect piece we need to step back and laugh a little bit at the situation we all are in.




Friday 10/16
7:20 pm

Saturday 10/17
8:05 pm

An Experiment

by Brent Holland
directed by Oyinkan Adebajo

In a fantasy/sci-fi world, five people wake up in a room with no memory of their past life and only a personality descriptor on their shirt (such as "devious"). A doctor explains to them that they are willingly participating in a research study about whether their personality descriptor will affect their behavior under duress. The participants then find out that if anyone loses, they die.




Friday 10/16
8:00 pm

Saturday 10/17
9:25 pm

Vampire Lesbians of Sodom

by Charles Busch
directed by Marlee Schulman

Two vampires are enemies for life after one accidentally "turns" the other in the biblical city of Sodom. The campy play follows the two women across several generations as they hide their identities in show business, first as successful actresses in 1920's Hollywood and then as failing showgirls in present-day Las Vegas.




Saturday 10/17
7:00 pm

Sunday 10/18
8:25 pm

Terminating, or Sonnet LXXV, or 'Lass Meine Schmerzen Nicht Verloren Sein,' or Ambivalence

by Tony Kushner
directed by Clarissa Shirley

Esther, an analyst, and Hendryk, her former patient, are accompanied by their lovers as they engage in a discussion about human identity. The characters in Kushner's play are brimming with profound thought, or maybe they're just full of nonsense—that's up for the audience to decide. Either way, Kushner's funny, yet tragic style raises important questions about queerness, identity, sex, love, and loss.




Saturday 10/17
7:40 pm

Sunday 10/18
7:40 pm

The Perfect Storm

a new play by Jessica Stier
directed by Ellen Powers

The Perfect Storm depicts a powerful conversation between three siblings and their mother as they respond to a recent tropical storm. Written for Zoom (and the present moment), the piece explores what it means to reconnect with loved ones during this new "normal," to feel a sense of community in times of destruction, how we reunite to handle forces much larger than ourselves.




Saturday 10/17
8:45 pm

Sunday 10/18
7:00 pm

Rules for Coming Out When You're in the Driver's Seat of Your Mom's Camry

by Jessica Marie Fisher
directed by Lizzie Witek

The coming-out story for people who are tired of unnecessarily dramatic and unrealistic coming-out stories. Almost nobody knows completely what their sexuality is; most people have to find the answers through trial and error. Lauren and Liam navigate love, sex, family, identity, relationship abuse, and the sticky in-between of queer adolescence while working through their own imperfect friendship.
---
Weekend B
Oct. 23-25



Friday 10/23
7:00 pm

Sunday 10/25
7:40 pm

The White Plague

by Karel Čapek
directed by Bekka Broyles

The White Plague explores a country troubled with tyrannical leaders, war, and disease. How does a family respond to reports of a mysterious illness sweeping the nation? What role does a cure play in saving a nation from war? Can a dictator learn to overcome his ambitions for the survival of a nation? This play delves into these questions and more in three acts full of satirical drama.




Friday 10/23
9:15 pm

Saturday 10/24
7:20 pm

Love and Information

by Caryl Churchill
directed by Savannah Hastings

Imagine you are walking through an art gallery. There are paintings and sculptures all around you. Each one tells a different story, but somehow they all connect to you and to each other. That is the journey that Caryl Churchill guides you through in Love and Information. Through many small vignettes, the audience is faced with different forms of perception altering connections that create a small window into human life.




Saturday 10/24
7:00 pm

Sunday 10/25
7:20 pm

The Philadelphia

by David Ives
directed by Alegra Secor

A madcap satire of Brotherly Love and cosmic misunderstandings. Mark thought he woke up in New York City this morning, so why isn't there a cab, a copy of the Times, or a cold beer in sight? You can't always get what you want, and in this clash of the cities, you might only be able to get the complete opposite — plus a cheesesteak.




Saturday 10/24
8:55 pm

Sunday 10/25
7:00 pm

Heart of Hearting

by Joseph Zeccola
directed by Amira Jackson

Heart Of Hearing is a 10-minute play that deals with the complexities of love, relationships, and self-identity. Angie and Josh were at one point in time in love. That isn't the case anymore... or is it? Angie calls Josh to see what he's up to and to "apologize" for blowing him off a while back. They get to talking about their current relationships, their strange relationship, and for a brief moment remember what it feels like to be in love.
---
Performance Schedule
All times below are Eastern Time (ET)
Weekend A
| | | |
| --- | --- | --- |
| Friday, Oct. 16 | 7:00 pm | GPS: An Auto-Erotic Comedy |
| | 7:20 pm | An Experiment |
| | 8:00 pm | Vampire Lesbians of Sodom |
| Saturday, Oct. 17 | 7:00 pm | Terminating… |
| | 7:40 pm | The Perfect Storm |
| | 8:05 pm | An Experiment |
| | 8:45 pm | Rules for Coming Out… |
| | 9:25 pm | Vampire Lesbians of Sodom |
| Sunday, Oct. 18 | 7:00 pm | Rules for Coming Out… |
| | 7:40 pm | The Perfect Storm |
| | 8:05 pm | GPS: An Auto-Erotic Comedy |
| | 8:25 pm | Terminating… |
Weekend B
| | | |
| --- | --- | --- |
| Friday, Oct. 23 | 7:00 pm | The White Plague |
| | 9:15 pm | Love and Information |
| Saturday, Oct. 24 | 7:00 pm | The Philadelphia |
| | 7:20 pm | Love and Information |
| | 8:55 pm | Heart of Hearing |
| | 9:15 pm | GPS: An Auto-Erotic Comedy |
| Sunday, Oct. 25 | 7:00 pm | Heart of Hearing |
| | 7:20 pm | The Philadelphia |
| | 7:40 pm | The White Plague |
---
Festival Staff
Fish Project Play Festival Coordinators: Ali Rohrbaugh & Jaxson Goldsmith
Fish Project Coordinator Assistant: Shira Holtz
Production Manager: Maereg Gebretekle
Assistant Production Managers: Delaysia Jarvis & Bridget Wiggan
Master Electrician: Emilie Leasure
Assistant Electrician: Tryston Morgan
Master Stitcher: Lauren Fitts
Master Carpenter: Sophia Pettine
Assistant Carpenter: Greg Wilson
Media Coordinator: Madison Whiting
Media Coordinator Assistant: Lizzie Witek
Graphic Designer: Allison Mintz