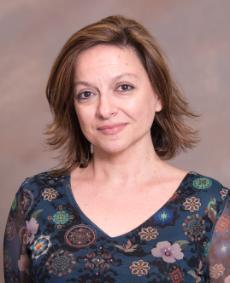 Ioanna Chatzidimitriou

Associate Professor of French
Ettinger 101 C
Office: 484-664-3341
Fax: 484-664-3722
ioannachatzidimitriou@muhlenberg.edu
Education
B.A., University of Athens, Greece
Ph.D., University of North Carolina at Chapel Hill
Professor Ioanna Chatzidimitriou teaches courses in Muhlenberg's newly redesigned French and Francophone Studies Program with special emphasis on contemporary French urban culture and literature, francophone North Africa, francophone Asia, francophone cultural production in the age of globalization and writing.

Professor Chatzidimitriou holds a BA in French Language and Literature from the University of Athens, Greece and a Ph.D in Comparative Literature from the University of North Carolina at Chapel Hill. She has taught all levels of French language, literature and culture at the University of West Georgia, the University of California, Irvine and Lehigh University. She has also taught courses in world literature with a focus on 19th and 20th-century European literatures.

Her recent book Translingual Francophonie and the Limits of Translation (Routledge 2020) examines uses of translation as theme and practice by code-switching francophone authors. She is currently co-editing a collection of essays on the Greek francophone author Vassilis Alexakis.